With globalization, new technologies are emerging in the environment in which we live, having an impact on society as a whole.
Join the fastest growing network on Telegram
StreamIt is a service for all vloggers, video channel owners or streamers to give your subscribers regular rewards based on their subscription tier. Incentivize your subscribers who watch your channel or are even idle spectators who just have dropped in for a visit through StreamIt Bot by showering coins on them at regular intervals. Earned coins can be exchanged for other cryptocurrencies or fiat on crypto exchanges.
StreamIT brings an opportunity to millions of streamers worldwide to make streaming or vlogging a full time career and grow from it. Every streamer or vlogger yearns for a million subs but other than regular content or interesting descriptions, till now they had nothing more that they could offer to the subscribers. So the subscriber base is totally dependent on your content going viral or at least popular.
StreamIt Video bot is here to help many streamers and vloggers like you to retain your viewers and build your channel.
How Streamit works?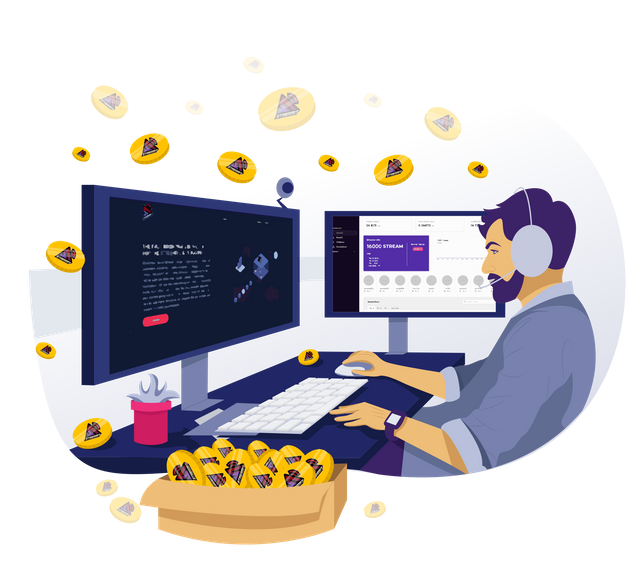 Each participator can choose the trader and to sign a contract.
StreamIt is a service for Live streamers or vloggers or YouTubers to give their subscribers rewards based upon their subscription tier. Subscribers who watch and/or idle in StreamIt Registered Streams earn StreamIt Coin, which can be exchanged for other cryptocurrencies on exchanges. This will help the Streamers retain viewers and build and grow their channel.
With StreamIt's video bot, @streamit_bot, people can tip and rain to anybody, and they may also deposit and withdraw at anytime. People do not have to register their E-Mail for tipping, raining, or withdrawing, however to a Registered Streamer will be able to use the Web Dashboard for further analytics and controls.
All accounts are given a StreamIt wallet address, along with a private key just in case you lose your Social media account or launch new channels. Registered users also get to opt-in to Two Factor Authentication (2FA) via E-Mail.
Registered StreamIt Streamers will be able to set Rewards for Subscribers classified upto 3 Tiers, set Rewards for non-subs, view idle statistics, view all transactions, time-ban or permanently ban certain users from getting rewards on their streams, run competitions, and reward active chatters.
Why Streamit?
Earned coins can be exchanged for other cryptocurrencies or fiat on crypto exchanges.
Whether Twitch or YouTube or any other social media platform, your earning potential as a streamer totally and absolutely depends on the number or fan following & subscribers.
The more your subscriber or follower base increases and the more you can keep them engaged, the more is your chance to earn money through streaming or vlogging.
Social media experts, influencers or sponsors are only interested when they see potential in your content and also the number of viewers you can engage at any given time.
Organic growth needs time and patience and paid growth hacks do not work in the long run. Thus we have come with an unique strategy in which you can grow your channel yet in a complete organic way!
StreamIt come to help you get that extra edge over other streamers or vloggers by helping you real time to grow your channel organically.
What features do they offer?
Set rewards for the subcribers / viewers that they can earn by following you.
Automated monitoring – StreamIT bot monitors every task 24/7
Automated chat notification – this chat is between the viever and the streamer to have a conversation and notification that the subscriber received some STREAM
Rain & Tip viewers & Ban trolls – StreamIt is the simplest way to show your gratitude. Just set the amount and the tier and watch people being rained with Stream coins.
For Subscribers:
Each participator can choose the trader and to sign a contract.
StreamIt is not only the new way to grow but also a new way to earn while having fun! No more 'avocados' or 'power ups' or a plain 'thank you', earn real money while you spend time watching your favorite streamer host your favorite program.
You can search streams by categories and content of channels and also decide on which stream to watch depending on the reward each streamer is paying.
You be able to view how active a participant you have been as well. Our dashboard will give you a special calculator to help you to see how much you can earn just by viewing a stream.
If you are the person who loves watching a game and not playing it, StreamIt makes it possible for you to earn while you watch someone else play your favorite game.
STREAMIT Coin Specifications
Coin name: STREAMIT
Ticker: STREAM
Algorithm: Quark
Block Reward: 3.5 – 10 STREAM
Masternode Collateral: 20.000 STREAM
Masternode Reward: 70% – 90%
Staking (POS) Reward: 30% – 10%
Block Time: 60 seconds
Total supply: 840.000.000 STREAM
Premine: 9.490.000 STREAM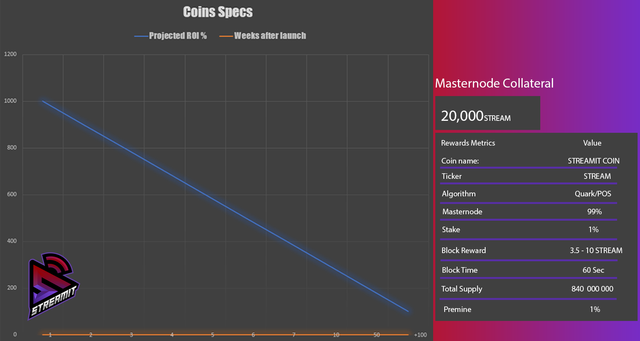 STREAMIT Masternodes
Instant transactions – Instant Send on the network.
Private Transactions this implement the functionality to hide your identity when making transactions.
Protect the blockchain
AND MORE