New data from Charles Schwab, one of the largest retail brokerage firms in the United States, has indicated that the Grayscale Bitcoin Trust, which trades under the ticker GBTC on over-the-counter markets, is one of the most popular equity holdings amongst millennials. This statistic comes against the headwind of the 50 percent downturn that the Bitcoin price has seen over the past five months.
Join the fastest growing network on Telegram
There's a running meme that the cryptocurrency community is filled to the brim with millennials and generation Z—people born after 1981. Apparently, the anecdote is more than just a meme, it's a fact.
The report, published Wednesday, showed that millennials (currently aged between 25-39) have a higher holding in Grayscale's Bitcoin Trust (GBTC) investment product at 1.84% than Netflix stock at 1.58%. Schwab publishes this report every quarter and collects data from nearly 142,000 retirement plan participants who currently have balances between $5,000 and $10 million in their Schwab Personal Choice Retirement Account.
Sure, 1.84 percent isn't "mass adoption" per se, though many in the cryptocurrency community have taken this statistic in stride. Mike Dudas, CEO of industry outlet The Block, wrote that this statistic is the "clearest sign to me that there is retail demand for people to own bitcoin via traditional investment accounts."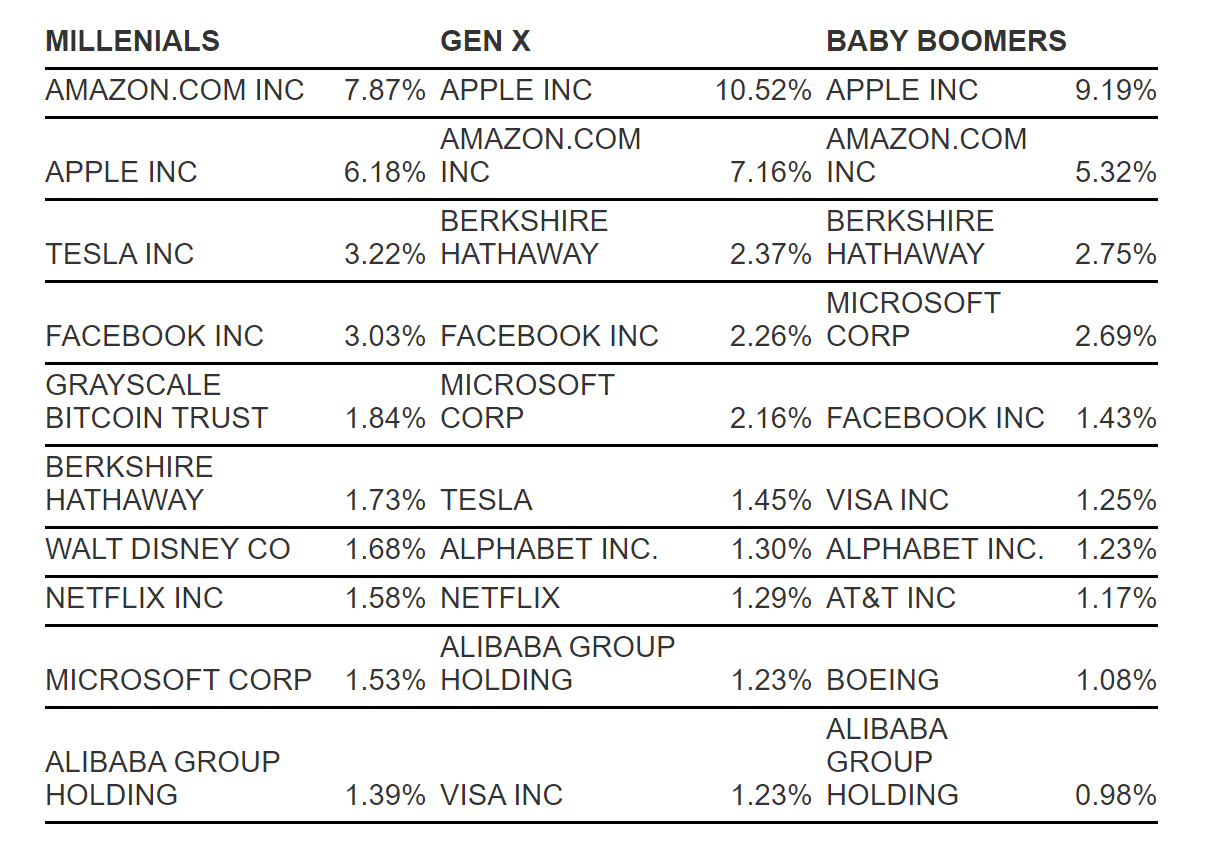 Under the column for millennials, those born after 1981 and before 1996, it was noted that 1.84 percent of this demographic's collective net worth was allocated to Grayscale's Bitcoin Trust, making the BTC-linked investment vehicle more popular than Berkshire Hathaway, Walt Disney, Netflix, Microsoft, and Alibaba Group. This made GBTC the fifth most popular investment among millennials, falling short of Facebook's 3.03 percent, Tesla's 3.22 percent, Apple's 6.18 percent, and Amazon's 7.87 percent.
Grayscale Bitcoin Trust Top the List
Digital Currency Group-owned Grayscale launched GBTC in 2013 as a private placement to accredited investors and, in 2015, received approval from the Financial Industry Regulatory Authority (FINRA) to offer publicly-traded shares.
GBTC is arguably the most successful cryptocurrency investment product, which saw a total cumulative inflow of $304.4 million for the 12 months ending in September. Grayscale once also filed for a bitcoin exchange-traded product (ETF) in 2017, but later that year withdrew its application as the U.S. Securities and Exchange Commission (SEC) rejected the Winklevoss Brothers' bitcoin ETF.
Notably, GBTC is not in the top 10 equity holdings by Gen X (currently aged between 40-54 years) and baby boomers (55-75 years). Both the generations' top three equity holdings are Apple, Amazon and Berkshire Hathaway stocks, per the Schwab's report.
Schwab's List Accounts for All
The average account balance for all participants in the third quarter of 2019 was $276,929, nearly identical to the $276,547 from the previous quarter and 1% above the average balance from the third quarter of 2018 ($275,362), per the report. Baby Boomers had the highest account balances at an average of $394,064, followed by Gen X at $213,018, and millennials at $68,756.
Schwab is currently the biggest investment brokerage firm in the U.S. with $3.2 trillion in assets under management. Just last month, the company announced that it is set to acquire crypto-friendly rival TD Ameritrade for $26 billion. The deal is expected to close in the second half of 2020 and the combined entity will manage over $5 trillion in client assets and serve 24 million client accounts.