Overtime, screens on electrical devices have evolved from Nixie tubes, VF (Vacuum fluorescent) displays, to the current wide-range LEDs (Light Emitting Diode) and foldable screens that is being modified.
Join the fastest growing network on Telegram
To unpack the evolution, we'll take a look at a few trending foldable screens smartphones and how they attract the 21st century generation.
Lenovo ThinkPad X1 Fold
Lenovo has unveiled what is being described as the world's first foldable PC — the ThinkPad X1 Fold — at the on-going tradeshow CES 2020. The PC comes with a folding OLED display of 13.3-inch. The device weighs less than 1kg and when used in the landscape mode can be connected to Bluetooth Mini Fold Keyboard (foldable screens).
"Our legendary ThinkPad heritage', says Christian Teismann, Commercial PC and Smart Device Business president for Lenovo, 'has given us the foundation for progressive design over the years to now build an engineering masterpiece with X1 Fold, a new category of device that comes along once in a decade."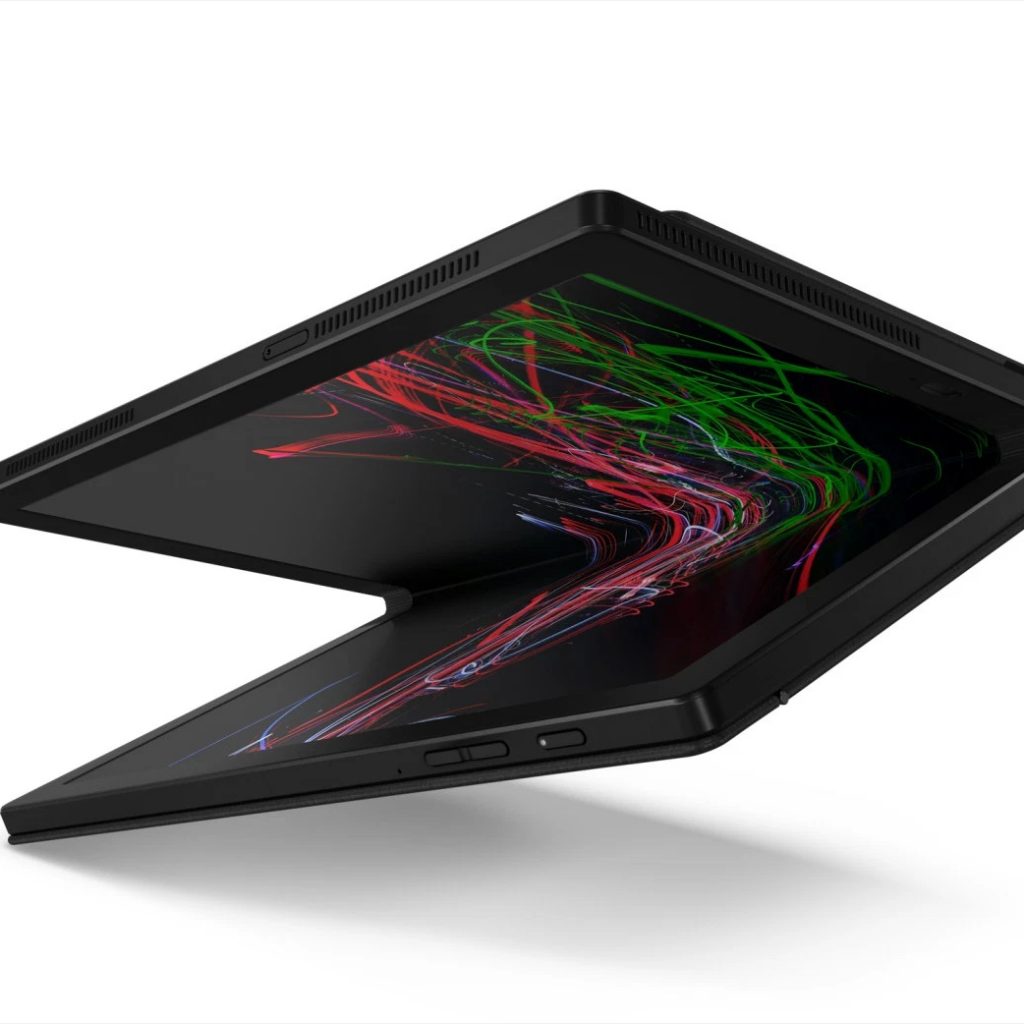 The new ThinkPad is built from a combination of lightweight alloys and carbon fibre and covered in a leather folio cover. With the durability and reliability expected from the ThinkPad brand, the X1 Fold is a fully functional laptop PC with a 13.3-inch folding OLED display and weighs less than 1kg.
The device is intended to adapt to users' needs as they can seamlessly morph through multiple orientations from a compact footprint into a fully flat display.
Microsoft Surface Duo

At a company event in October 2019, Microsoft surprised the world when it previewed the Surface Duo, a smartphone running Android—yes, Android— that sports a pair of 5.6-inch foldable screens displays that fold out into a larger 8.3-inch screen.
Users will be able to flip around the Surface Duo's screens, which can rotate 360 degrees, to use the device either as a phone or tablet. And when the screens are side by side, the phone will be able to multitask with several apps at once, dragging-and-dropping between programs and displays, stretch one app across both screens, or simply using the second screen as a keyboard.
Although a Snapdragon 855 processor with eight computing cores will power the device, little else is known about the Surface Due—including its price—which is expected to be released some time in 2020.

When Samsung announced the Galaxy Fold in February 2019, reactions were mixed. For a staggering $1,980—more than many computers—the device unfolds its 4.6-inch screen to reveal a 7.3-inch tablet with its "Infinity Flex Display." Also, on-board: a 64-bit processor with eight cores, 512 gigabytes of built-in storage, and 12 gigabytes of RAM.
Samsung touts the Galaxy Fold's multitasking chops for juggling three open apps at once, as well as a feature called "App Continuity," the ability to start interacting with an app on the smaller front screen and continue using it on the larger screen inside.
Yet even Samsung acknowledged the device was essentially a work-in-progress when the Galaxy Fold was announced, and the company expected to be "surprised" with how the Galaxy Fold is used day to day.

Smartphone users who fondly recall Motorola's iconic RAZR flip phone from the early 2000s may be intrigued by the company's new Razr, which the company announced on Wednesday.
Being available for pre-order on Verizon in the U.S. on Dec. 26 2019, for $1,499, shipping to customers started in January 2020. The Razr marries the flip phone design that made the original such a classic, with a 6.2-inch pOLED display that folds in half when the phone is closed. On the outside, a 2.7-inch gOLED display shows information like notifications, song tracks, and the time of day.
The Razr, which runs Android 9 Pie as its operating system, is powered by a Qualcomm Snapdragon 710 processor with eight computing cores running at 2.2 GHz, paired with 6 gigabytes of RAM along with 128 gigabytes of onboard storage.
According to Motorola, the Razr should get the average user "a full-day of use," but the company would not further elaborate on that claim.
Huawei Mate X

Huawei's Mate X foldable , which launched in China on last year, is the most expensive foldable phone so far, starting at 16,999 yuan in China, or roughly $2,400. Those who pony up, however, will find the Mate X offers a lot of bells and whistles.
Unfolded, the device acts as an 8-inch tablet. Fold the device, and you have two screens: a front-facing 6.6-inch OLED screen, complemented by a 6.4-inch OLED display on back. The Mate X also uses a Kirin 980 processor, with eight computing cores, wed to 8 gigabytes of RAM, and a trio of Leica camera lenses on the back with 40-megapixel wide angle lens, a 16-megapixel ultra wide angle lens, and an 8-megapixel telephoto shooter.
The feature-packed Mate X may never find its way to the U.S, given the Trump administration has officially barred U.S. companies from buying telecom equipment from Huawei. Likewise, the U.S. Department of Commerce forbids U.S. companies from offering hardware and software to Huawei without permission.
So while the Mate X runs Android, it won't have any Google apps installed, similar to Huawei's Mate 30 Pro smartphone. Still, despite those hurdles, the Mate X sold out online on Friday "within seconds," according to Huawei.